Prepare for the TOTALLY '80s PROM PARTY with these awesome '80s prom pics!
We're celebrating prom season all through the month of May with special editions of our Totally '80s Sing-Alongs!
The Action Pack has been running regular TOTALLY '80s SING-ALONG parties at the Alamo Drafthouse for a while now, so this month we thought we'd do a little something to make everything just a bit more special. That's right, all through the month of May we're going to celebrate with a PROM PARTY theme at all of our TOTALLY '80s SING-ALONGS.
That means we're slowing it down for the ladies, and our Action Pack hosts will act as chaperones to help make sure that all of you couples out on the dance floor leave a little room for the Holy Ghost while you're swaying back and forth to some Phil Collins or Enya, and it also means we want to see your best '80s Prom outfits.
If you're super awesome, maybe you can even look this cool: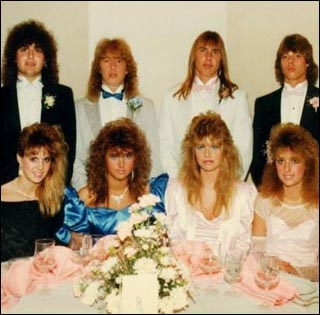 Source: Slashdot.org
Or maybe you should leave the guys at home and get a group of your girlfriends together so you can look this pretty:
Source: BackToTheFutureIreland.com
I think the three girls on the bottom left hand side may have actually eaten their dates in order to steal their fancy bow ties. Yikes! We have a definitive rule at these Sing-Alongs - NO EATING YOUR DATES IN ORDER TO STEAL THEIR BOW TIES!!
Guys, if you're really nervous that your date for the Totally '80s Sing-Along prom party is going to eat you for your bow tie, you could go ahead and not wear a bow tie at all:
Just be aware that if you go for that look you won't end up getting the girl at the end of the movie EVEN THOUGH YOU WERE TOTALLY SUPPOSED TO AND IT'S IN THE ORIGINAL SCRIPT AND IT WAS JUST SOME DUMB TEST AUDIENCES THAT MADE THEM GO BACK AND RESHOOT THE ENDING SO THAT SHE ENDS UP WITH THE STUPID GUY JUST BECAUSE HE'S "BETTER LOOKING"!
Okay, that had nothing to do with this show. Still. That is a pretty important moment in '80s Prom history, and we'll make sure we stick with better endings for everyone at all of these '80s Prom Parties. Hopefully everyone will get to keep their dates and just stand awkwardly next to each other while your parents take lots of pictures that you thought would be safely hidden away in a photo booth forever because you didn't know that after the '0s we'd all have Facebook and these kinds of pics would be easy to grab and post into other fun blog posts!
Source: LikeTotally80s.com
It's so amazing that there was a time in our culture when puffy sleeves actually were a thing. That really happened!
And we're going to celebrate that culture AND those sleeves at all of these shows. So get decked out, head on down to your local Alamo Drafthouse, and prepare to dance (and sing!) the night away.
You can grab your tickets to the Totally '80s Sing-Along right here. We'll be doing special prom nights all through May, and then join us in June when we join in the Summer of '83 festivities with several highlights from that incredibly eventful year in music video history!
This suggestion came from Sarah, one of our Action Pack hosts out of Houston, so before I sign off here I've got to send big thanks her direction for giving the excuse to look at all of these awesome images all night. I don't know where the idea came to her from, but I'm hoping she saw a limousine pull up at an Olive Garden, watched a bunch of 17-year-olds in fancy clothes pile out and then stand awkwardly close to their dates without really being sure what they should do while they were waiting for their table, and then said to herself, "This needs to be a Sing-Along!"
---------------------------
GET TICKETS TO THE PARTY: Totally '80s Sing-Along
CHECK OUT THE ACTION PACK ON FACEBOOK: Action Pack Facebook
OR FOLLOW THE ACTION PACK ON TWITTER: @theactionpack
THEN CONTACT HENRI ON TWITTER TO SHOW HIM YOUR PERSONAL '80s BEST: @henrimazza